Auction Marketing Plan for Real Estate
Arrival of Fair Market Price
We complete a Competitive Market Analysis of your specific property.
Utilizing the computer network system to obtain all comparable Real Estate sales.
Obtaining data on properties sold at Public Auction or private treaty.
Personal knowledge obtained by experience in selling real estate by private treaty, Public Auction and Real Estate.
Consideration of zoning and sub-division regulations that pertain to the property so as to determine best approach to obtain highest current value.
---
Means of Advertising
Professional signs indicating the amount of acres if required, zoning and pertinent sale information.
Approximately 30 different newspapers and other media, including the Internet!
Professional color picture brochures.
Complete deed plottings and boundary line descriptions.
Real Estate Broker Participation where warranted covering the Tri-County areas.
---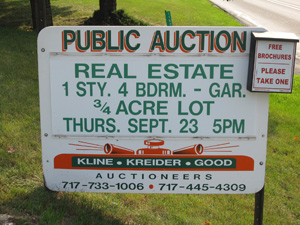 Plan of Action
We need to have a complete understanding of the preferred time frame to sell your real estate, which alone depends on your personal circumstances. Most times your situation will dictate a preferred course of action to market your Real Estate.
Facts for selling Real Estate
The sale of Real Estate has become more sophisticated and demands professional marketing.
The sale of Real Estate is no longer a simple "no strings attached"
transaction. The Seller's liability is at an all time high.
Complete Seller Disclosure Statements must be provided for all Real Estate sold.
Ninety to ninety-five percent of all buyers for Real Estate will be from within a 5 to 20-mile radius of the subject property.
Professional representation of the Seller of Real Estate is extremely important and will almost always result in more net dollars for the Sellers.
---
Experience and Credentials
Over thirty years of experience as a Real Estate Auctioneer/Broker
Partner/Owner Kline, Kreider and Good Auctioneers.
Member of National and State Auctioneers Association.
Member of Local Southeastern Dist. Auctioneers Association.
Graduate of Mendenhall School of Auctioneers.
Partner/Owner Kingsway Realty.
Member of National and state Realtors Association.
Member of Lancaster County Association of Realtors.
Licensed Real Estate Broker/Appraiser.
Affiliation with Professional Legal Counsel specializing in Real Estate.
Affiliation with several prominent lending institutions.
---
Support System
Our auction staff consists of full-time Licensed and bonded Auctioneers and eight auction clerks (normally two or three clerks are utilized at a specific auction).
Marketing and sale of Real Estate is our full-time professional business.
I employ a full-time personal assistant who is a licensed real estate associate.
Twenty-four hour answering service for after hour calls.
Voice Mail system with automatic paging service.
Wireless telephone for immediate response.
Digital pager to enhance availability.
---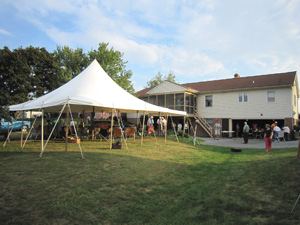 Our Marketing Programs
We offer two different marketing plans each with a different rate system.
Plan #1: Commission of real estate sale price plus advertising expense.
Auctioneers prepare newspaper advertising, brochures, & signs.
Complete deed plotting and boundary line descriptions.
Complete market analysis of the property prior to Auction.
Pre-qualification of prospective Buyers to obtain financing
Market analysis of Buyer's realty when needed by lender for pre- qualification of Buyer.
Advertise Auctioneer's telephone numbers for prospective Buyers to call regarding terms, details, zoning, etc.
Preparation of Sale Conditions which include legal description and plotting.
Arranging for an attorney or title company to conduct the settlement.
Plan #2: Realtor Broker Participation Plan
Commission of real estate sale price plus advertising expense.
All of the above are included.
Broker Participation.
Includes a referral fee offered to any Real Estate Broker/Agent who registers a perspective buyer with the Auctioneers prior to the Auction in accordance with the auctioneers' requirements. The commission shall be due & owing to the auctioneers regardless if the purchaser is a registered broker buyer participant or not. This unique marketing tool has become very successful by having Realtors cooperation with the Public Auction method of selling Real Estate.
---
Conclusion
Professional marketing and promotion of Real Estate at Auction is not as much a cost to you as it is an investment. Our collective goal is to sell your Real Estate to a Retail Buyer for a fair market value.